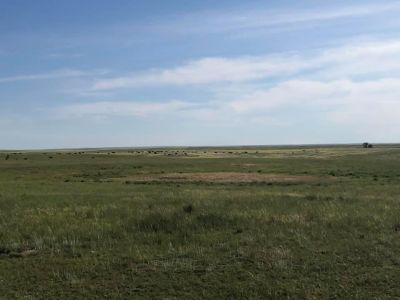 We are moving one of our last herds out to summer pasture today. Out here in this part of the country we depend on the native pasture land. This is the original grassland that has never been broke up to farm and actually is an endangered ecosystem in today's world. Through sustainable management the native grass still produces as good today as it did in 1909 when this area was settled. It's a very dense and nutritious grass and with all the rain this year it looks great.
Crossing the pasture I passed over one of my wife's families original homesteads. They settled in this part of the country in 1909 when the government opened up the west to be settled. Her great grandpa and his brother moved out here from the foothills with their families to make a go at ranching in the once harsh country. Long winters, prairie fires, drought, and lack of feed didn't stop them from making their mark on this country.

As we move cows across this old prairie the same as our ancestors did it humbles me to how tough it would have been back then.

The homestead in the picture is her great grandpas brothers old yard site, the other yard site still stands today with her mother and father living there.
Follow us on Facebook: MacPherson Meats
Phone: +1 (403) 952-1122